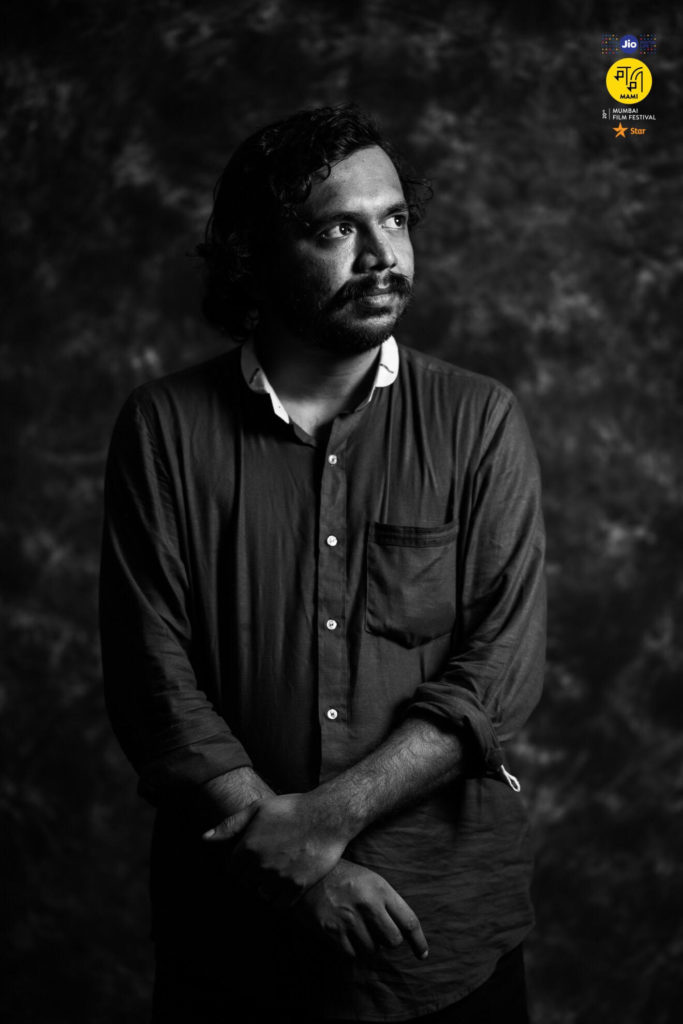 Born in 1987, Aadish Keluskar did his graduation in journalism from University of Mumbai. His life changed after he saw Old Boy by Park Chan wook and he decided that if not given a shot to filmmaking , he would be regretting it at his deathbed.
He got into Film Direction Course of FTII in 2009, dropped out in his third year to complete the post production of his first Feature Film in Marathi named Kaul (A Calling).
Kaul won Young Critics Award for Best Film in MAMI, 2015. Along with it it was selected in Film Festivals from India and aborad. It released theatrically in 2016.
His next Feature in Hindi, Jaoon Kahan Bata Ae Dil (Lovefucked) won Young Critics Award for Best Film in MAMI, 2018. It was released as a Netflix Original in 2019.
His short films Tatpaschat (2011) and Zero By Zero (2012) were screened in film festivals such as Indian Film Festivals of Los Angeles and Clermont Fearrand International Short Film Festival.
Currently, Aadish is working on a film and a web series project.
As a child what were your early influences towards cinema? Art, literature, graphics, photography?
I was not particularly interested in films. It was one of the entertaining things that I was exposed to one a year or so. Things like Graphics, Photography were also thought to be rich kids' hobbies in the world I was a part of. Reading was the only thing that was encouraged but as far as I remember I was more interested in non-fiction literature.Occasionally, I used to talk to myself or imagine situations with people to fulfil my hunger for creativity. However, that was casual. I was an outdoor kid, so that is how I spent most of my time till 18-19.
How did you first become interested in film direction?
I was told that my mind is better suited for journalism or advocacy, so I took admission for mass media graduation course. In the first year, there was a short film competition for which I made a terrible short film for kick. But by that time I had watched enough good films. I wondered why I made such a terrible film. Then, I started watching more films, reading interviews and sending more time in analysing the mechanics of cinema. I initially wanted to become a cinematographer but out of nowhere, I started writing poems. I figured out that if I can write what want and shot the way I have visualised then I will be more satisfied. Director does this job, hence I became more interested in direction.
What steps did you take to train yourself?
Reading about Cinema and topics related to it(which is pretty much everything from philosophy to astronomy). Listening to filmmakers' commentaries. Taking notes of films(department wise) that left an impression. Taking certain films on a timeline of FCP and analysing them shot by shot helped tremendously. Other than that, there were a couple of interesting lectures by regular faculty and some intriguing workshops by visiting faculty in FTII that exposed me to the film appreciation element of different kinds of cinema. Most importantly, I made some short films along with the exercises of FTII that made me realise the important co-relation between aesthetics and production mechanism.
Have you assisted anyone? How does it help one?
I have assisted in production in a couple of FTII exercises. I had tried to assist someone in direction but it was so frustrating to see the director wasting resources that I had to leave it.It totally depends on one's temperament whether assisting someone can help or not. Mostly, assisting helps for networking and money. I am not sure how it helps someone to hone his/her directorial skills. If one is thinking of direction tricks or tips then one can always get them from numerous interviews of filmmakers in the world. So it's all relative. I personally think best way to learn direction (if you have your basic needs taken care of) is to study and put it into practice by directing.

How did your first film project come about?
Tell us something about the experience.It happened in third year of FTII.It was an attack. The entire screenplay came in a matter of few hours. I only had to figure out how to make it possible production-wise. This was 2013. Thankfully, two years before Canon's digital revolution had started. I had bought 7d at that time. I figured out if I didn't have an assistant, DOP and sound has one assistant each and an EP… I have got the budget sorted out. Since my film was set in Konkan where I hail from, location permissions was not an issue. I made my cousin EP, who had some organisational experience. Relatives were from Konkan , so no worries about accommodation either. I had enough information about low budget filmmaking to know the mechanics. Then, we cast our lead from Mumbai and rest actors we picked up from Konkan. And we were set. The experience I had while making Kaul was of utmost freedom that I had never experienced before. We had the time, we had the space and its rhythm. We were making the film as if it were our first and last film. It was pure and hypnotic.
Tell us something about crowd funding. Do you think the process can be improved and become a larger contributor to a film's budget?
I haven't studied it enough to give any suggestions regarding it.
How do you decide on a film subject. What are your inspirations?
Till now, for two films, the subject has come out in the form of an attack. I cannot pinpoint any particular incident, film, book, or work of art that has inspired me in particular. I am aware that depending on such attacks is not a good thing for making films. However, the projects that I have written about with calculations are in the pipeline. If any of those projects gets a producer , I would go ahead with it. If not, and an attack come, I would make a film as per that.
Is film direction intuitive or is it something you learn?
Instinct turns into intuition through learning. One only has to figure which ways of learning are stimulating for one's brain and which ones aren't. It is a continuous process but learning is required. However, our education system has made us corrupt in terms of learning so we have to be vigilant about the way of learning. I think this quote by Kubrick puts it succinctly,"I think the big mistake in schools is trying to teach children anything, and by using fear as the basic motivation. Fear of getting failing grades, fear of not staying with your class, etc. Interest can produce learning on a scale compared to fear as a nuclear explosion to a firecracker."
Do you think the audience is perceptive about how a director establishes a mis en scene in the sense of time and space?
Yes, subconsciously they are. It's automatic. There is no choice.
Film is a director's medium, though it is often looked at as driven by Film stars. How do you deal with it?
By making low budget films.
Tell us something about your film 'Jaoon Kahan Bata Ae Dil '
Jaoon Kahan Bata Ae Dil (Lovefucked) is an anti-romantic film. I don't know what to say about the film because it's all there in the film. I would rather like to the audience to tell me what they think of the film. Other than that, there are reviews and all about the film that say more or less about the film as they perceive it.

Your favorite films or directors? At least two of them?
Beau Travail and Chennai Express. Bresson and Kubrick.

Any hurdles you have encountered in your journey. Things that are blocks in a achieving your vision while making your film.
Networking which is euphemism for lobbying. I am bad at it. Whether in mainstream or in festival circuit, it is there. Because of my lack of interest in it, I face hurdles after making films. As far as making films is concerned, there is a general lack of knowledge about different genres amongst producers(even in low budget tangent). I face a labyrinth of blocks while trying to expose them to many ways in which Cinema has explored itself. I mostly end up in hurting their egos which basically means no finance.
Do you often get all that is in your wish list or is it a hard bargain every time? For the two films I have made in the span of 6 years. I have pretty much what I wanted . I am not sure about the future.
What is in the kitty now?
A couple of stories and screenplays and some concepts. Let's see what comes out.
Any advice to the inspiring directors?
That there is no general advice because everyone's satisfaction points might differ. Just be sure that you are in love with filmmaking and not just infatuated. Because there will be enough troubles to discourage you all the way, your love for filmmaking can withstand it not infatuation for it.
Any memorable blunders?
Yes. Doing theatrical release of my first feature film Kaul. I was uninformed about the whole exhibition and marketing mechanics of it. It taught me well, hence my second feature came on Netflix as an original straight up because after I read my first draft, it was clear that theatrical release was out of question.
Your dream project?
Cannot be revealed.
Who would you like to take out for dinner?
Scorsese.

What are you listening to right now? And most recent book? And Movie?
Songs of Amar Akbar Anthony. Predictably irrational by Dan Ariely. Following by Nolan.

Your twitter handle?
Private.
Official Trailer of Kaul :
https://youtu.be/CCPshHDVAL4