An absolutely stunning camera from Aaton, shoots 3.5 and 7k (with pixel shift), has an optical viewfinder and controls ISO through an innovative multi-slit mechanical shutter! Amazing. Aaton claims a very high dynamic range as well. The sensor is CCD, with a claimed 90% pixel fill.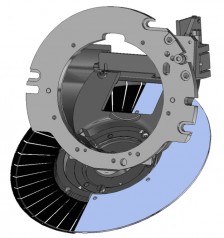 In addition to allowing you full mechanical control over shutter-angle, the Penelope Delta allows you to switch from a traditional half-moon spinning mirror to another set of blades which transmit exposure through many tiny slits. This reduces the ISO 650/800 sensitivity of the shutter down to about ISO 80/100, all mechanically/optically, and without affecting the shutter angle itself. A render of this design, courtesy of Aaton, is pictured to the right. This method also circumvents the loss of dynamic range that occurs with the attenuation employed by DSLRs at sub-base ISOs.
The Aaton filmmaking experience brought to digital imaging
The first optical viewfinder digital camera with an internal SSD recorder (DeltaPack*) for full rez CineDNG ucompressed RAW (the Adobe archival format based on open standards), and editorial-ready proxies.
* DeltaPack is compatible with the codex® backstage and post station workflow.
Lightweight: 7.5 kilos with internal recorder and two onboard 14V Li-Ion batteries. Two to five hours' autonomy; power dovetailing during changes.
Designed for earthlings, Delta respects Aaton's first commandment : Cat on the Shoulder profile, plus wide flat base for tripod. No eye-strain bright viewfinder with large peripheral coverage. . Rotating mirror shutter; no rolling shutter artifacts.
Main selector eliminates complex menu navigation and gives direct access to operating functions from both the operator and assistant sides.
Location sound-mixer friendly, Delta is noiseless in both record and pause ( <19dB ) and offers AES42 input for digi-mics as well as RF transmitted mixdown from audio recorders.
Unlimited number of cascadable preset 3D LUTs for RAW metadata on one hand, and for on-set control screens on the other.
14 stop dynamic range Super35 Dalsa® CCD sensor, 800 and 100 ISO sensitivities (patent pending) eliminate the need for special anti-IR neutral density filters. 90% pixel-fill allows for wide angle lenses with short exit-pupil distance.