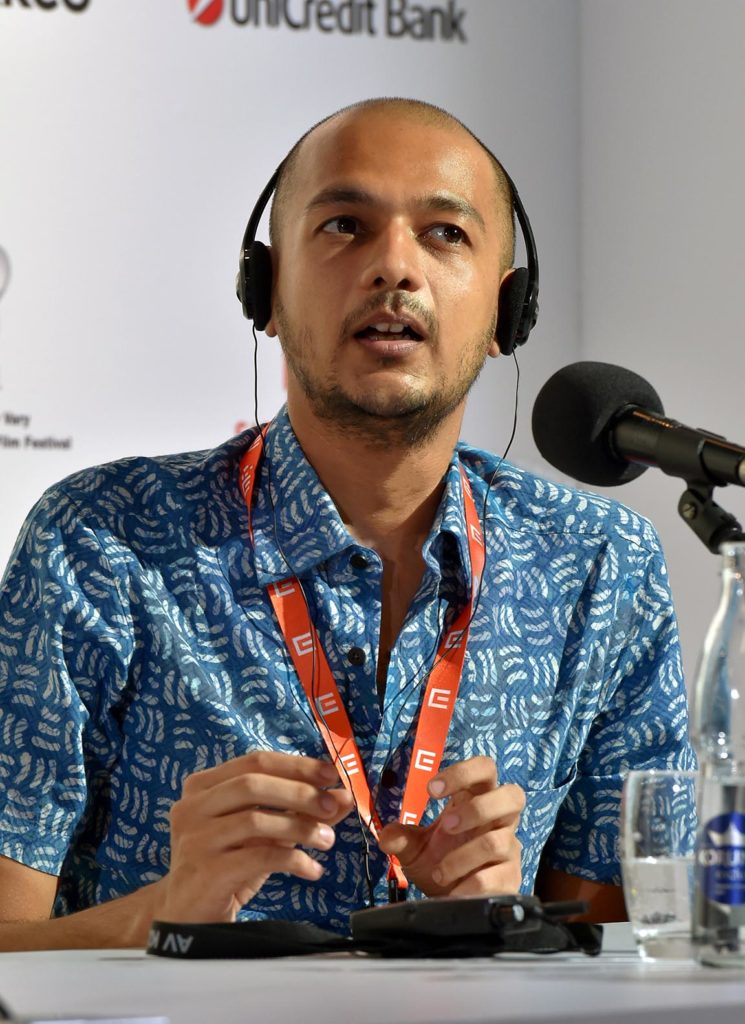 Anadi is an editing graduate from FTII and is one of the brains behind Human Trail Pictures, and continues to edit as an individual professional as well.
As a child what were your early influences towards cinema? Art, literature, graphics, photography?
I think I'm very lucky to have very supportive parents. My mother and father are both theatre artists and they are associated with IPTA in my hometown of Raigarh in Chhattisgarh. I have always been inspired by their zeal. When I was a kid, a friend of my father's bought a small mini-dv camera, which he gave him to test and experiment with. That camera got into my hands and I started discovering what I could do with that. At that point it was just amusement for me. Later I got my hands on Charlie Chaplin's Modern Times, which my mother got for me. I remember being mesmerised by his brilliance and the simplicity of his work. This is where I started taking cinema seriously. I remember watching a lot of his films and eventually got my hands on many other filmmakers including Georges Melies. I guess I figured what I wanted to do.
How did you first become interested in film editing?
I was unaware what editing was, before I met Mr. Sankalp Meshram. While working with him, I discovered how editing was a creative process, and it was much beyond the technical aspects of it. I started realizing that I really liked the edit room and the sense of calm which prevails there. I also realized it brings me a lot of joy when the film is able to evoke meaning and emotions through the process. I think editing is a very cathartic process for me. I can gradually see things taking shape, and it gives me immense satisfaction.
What steps did you take to train yourself?
I think the first step was to watch as many films as I could. And being in FTII really helped me do that. The editing department had brilliant teachers, who were also great canteen time buddies. I have spent hours chatting with Mr. Jethu Mandal. He has really opened my mind, and has made me realise my own patterns. Mr Arghya Basu was someone who used to always challenge us and question what we were doing. That really helped me to push my own limits. I think patience is something which should naturally be a part of the training, and working with 16mm and 35mm film really made all of us very patient, as the process was usually slow and needed a lot of labour, and every mistake would not only take time to correct but also a lot of effort.
Have you assisted anyone? How does it help one?
I assisted Mr. Sankalp Meshram on a few films he was doing before I joined FTII. I think it helped me immensely. More than anything, working with him exposed me to a lot of brilliant literature, music, paintings and of course, films. I guess, one should know why they want to assist in the first place. It also helps you to eventually get more work and discover many contemporary filmmakers, but more than that it helps to gain clarity in terms of aesthetics, as you get a lot of feedback as well.
How did your first film project come about? Tell us something about the experience.
The first film I made was out of curiosity. My father really wanted to make a film and he adapted a short story. I collaborated with him and shot and edited the film on my own. I must have been 15 at that time. The film wasn't very good, but it gave me a confidence to pursue film making further. We had a small mini-DV camera and a PC with premiere pro to edit on. And during this film, I struggled to understand what to do after one shoots. The post production of this film took us some time to figure out, but I ended up editing, doing the sound design and also mix the film on my own. It was a process of discovery, with no pressures and with the people I grew up with.
What are your inspirations?
I think Emir Kusturica and Tim Burton inspire me a lot. They both make films which have a very distinct aesthetic and somehow they have found their space. Emir Kusturica's films are almost aspirational for me. I always go back to 'Black Cat White Cat' whenever I feel creatively blocked. Tim Burton's films are very far from what Kusturica makes, but the spirit remains similar. His 'Big Fish' is a film I usually coax everyone to watch. The fearlessness and confidence in their filmmaking is inspiring. Apart from them, Karel Kachyna, Charlie Chaplin and Werner Herzog have largely inspired me.
Is film editing intuitive or is it something you learn?
I think all of us have a sense of storytelling and a sense of rhythm, as most of have some seen some kind of cinema in our lives. But at the same time, I believe one needs to learn to hone these instincts and understand them. One needs to learn to be confident about these instincts. One of the way of doing this is through watching films and the other is by editing something and seeing it for yourself. At FTII, these two things formed a very important part of my learning.
Do you think the audience is perceptive about an edit? What kind of feedback do you get from non-film maker audience for your work?
I am always happy when the audience is not perceptive about the edit and does not talk about it at all. Although a lot of people are perceptive towards it subconsciously. It is fun to talk to people who are not filmmakers after they watch the film. They usually talk about what they felt, and it is very interesting to hear the reasons behind these feelings.
Your favorite films or editors? At least two of them?
'Big fish' by Tim Burton, 'Black Cat White Cat' by Emir Kusturica and 'Jumping over the puddles' by Karel Kachyna are my all-time favorite films. I really look up to Sally Menke, especially because I have read her interviews which gave me a context into how she approached the rushes while editing films.
You also produced Ralang Road. How did the project come alive? How was the experience of producing a film?
Ralang Road is a very special film for me. I am one of the producers along with Heer Ganjwala and Karma Takapa, who has also written and directed the film. I was doing something else while they were shooting, so I joined the film after it was shot. Karma had written the film while he was in Sikkim and Heer and a couple of our friends went to Sikkim to collaborate on it. They ended up staying there for more than two months, shooting the film. When the footage came to me, it was very interesting. I was very excited to see what they had shot. We edited the film in Siliguri, where Karma was put up at that time. I did not know Nepali, and it took sometime to pick up what the actors were saying. For sometime, I used to interpret what everyone was saying and edit accordingly, and Karma used to explain me the meaning later. A lot of times we got it on the spot, but for a lot of sequences it took us a lot of time and discussions to figure out a better way of saying it. After the edit, I was mostly dealing with logistical aspects of the film, till we finished the mix. For me, my actual experience of producing began after the film was completed. We went to Film Bazaar, where we figured out a way to reach to the people we wanted to show the film to. It took us sometime to understand who would be the right people to watch and give us feedback. We met with them and received very valuable inputs on the film. It took us sometime to process them and almost six months to decide if we wanted to change them. I was also trying to get the film across to programmers and a few people we knew who could help the film reach its intended audience. Karlovy Vary Film Festival picked it up, and we were elated. It took us sometime to figure out how to get the film across to people. I think it was more of a sharp learning curve for me, as I had never dealt with this before. A huge part of producing a film happens after the film is finished. And this is something I realised while working on Ralang Road.
Any hurdles you have encountered in your journey. Things that are blocks in a achieving your vision while working on your film.
There are always a lot of problems while making any film, and even after completing the film. Funds and budgets are always a hurdle, but I think what we had was an amazing team of very motivated people. Most of us have doubled up to do many jobs on the film, and this spirit helps us to cope with these hurdles. While working on the film, I realised that there a lot of times one hits a roadblock, but somehow magically solutions come up, because you are not alone when you make a film, there are people around you who care about the film as well, and this definitely helps.
Do you often get all that is in your wish list or is it a hard bargain every time?
I think it is very difficult to achieve total satisfaction with your work. I always end up seeing mistakes and realize I could have corrected them.
What is in the kitty now?
Something very interesting. I am collaborating on a film with one of my best friends, and we can't wait to begin work.
Any advice to the inspiring editors?
I think I know very little to be able to give advice, but all I can say is that one should know that the process of editing requires a lot of reiterations and patience is something which comes very handy at that.
Any memorable blunders?
So many. Although the most memorable blunder was in my first year in FTII. We were doing multi-camera exercises. I was the producer for one of my friend and as the recording started, I got so confused that a lot of things got messed up. We only got one chance at shooting it. I felt so terrible that I decided that it is better to stop when things go messy, take a deep breath, calm yourself and restart. Sometimes it is not possible, like it was not in this case, but it enabled me to understand how to deal with failures.
Your dream project?
I have been writing a film since five years now, I think it will take a couple of years for me to be more articulate about it.
Who would you like to take out for dinner?
I think it has to be Salvador Dali.
What are you listening to right now? And most recent book? And Movie?
I'm listening to a lot of music from Coke Studio these days.
I recently read a beautiful book, called Flow: The Psychology Of Optimal Experience, by Mihaly Csikszentmihalyi.
The last film I really enjoyed watching was Merry Christmas Mr. Mo, by Lim Dae Hyung.
Ralang Road (Editor and Producer, Fiction Feature 2017)
Mor Mann Ke Bharam (Editor and Producer, Fiction Feature 2015)
The Unreserved (Editor, Non-fiction Feature 2016)