Panchro by Cooke
Panchro by Cooke is the latest range of lenses from Cooke Optics, due to ship late in 2009.
What we heard from the industry
While many DPs prefer to specify Cooke lenses to take advantage of the Cooke look as well as the on-set usability and reliable operation, cost has sometimes been a barrier.
In addition many purchasers of digital cameras like Red also want a full set of lenses for an affordable price.
We also wanted to open up the opportunity to use Cooke lenses in risky situations such as on-board stunt work because lower cost lenses reduce rental and insurance costs.
Our goals for the new lenses…
Our goal has been to deliver a smaller, lighter lens which offers the same resolution, optical quality and reliability as the S4/i, but at a lower price. We decided that the lenses should be equally suitable for shooting film and digital images up to and beyond a 4K resolution pipeline.
In addition the lenses include /i Technology, providing lens data per frame for downstream post production.
Like the S4/i lenses, the Panchro's are designed for motion photography and they don't breathe.
The lenses are one stop slower than the S4/i, as a result they can be smaller and lighter.
All Cooke lenses are colour matched. This means Panchro by Cooke and S4/i lenses can be mixed on a shoot with full confidence that the images will match.
from the Cooke site
Cooke Panchro Lens
18mm
25mm
32mm
50mm
75mm
100mm

---

T-stop range
T2.8-22
T2.8-22
T2.8-22
T2.8-22
T2.8-22
T2.8-22

---

Angular Rotation of Iris Scale
degrees
60
60
60
60
60
60

---

Minimum Marked Object Distance
mm
250
250
320
500
750
1000
inches
10
10
13
20
30
40

---

Close Focus from Lens Front
mm
79
79
143
329
579
829
inches
3.1
3.1
5.6
13.0
22.8
32.6

---

Angular Rotation to MOD Endstop
degrees
270
270
270
270
270
270

---

Maximum Diagonal Angle for S35 format
degrees
80
62
50
34
22
17

---

Length from Front of Lens to Lens Mount
mm
120
120
114
120
120
120
inches
4.7
4.7
4.5
4.7
4.7
4.7

---

Max Front Dia.
mm
110
110
88
88
88
88
inches
4.3
4.3
3.5
3.5
3.5
3.5

---

Total Weight
kg
1.45
1.4
1.36
1.27
1.23
1.54
lbs
3.2
3.1
3.0
2.8
2.7
3.4

---

Max. Format Covered
30mm diagonal Super 35 format

---

Focus Scales
Two opposing focus scales – metric or footage

---

Focus Drive Gear
126 teeth 0.8 metric module x 5.0mm wide x 103mm from image plane

---

Iris Scales
Two opposing linear T-scales – whole and third stops marked on both sides

---

Iris Drive Gear
119 teeth 0.8 metric module x 2.75mm wide x 83mm from image plane

---

Fitting Filter
Internal thread for filter adapter M82.5×0.75 pitch (fitting filter not applicable for 18mm and 25mm)

---
Specifications may change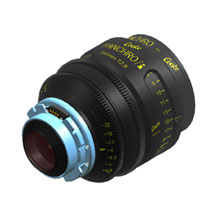 The Cooke Look
Cinematographers choose Cooke lenses for the "Cooke Look" – a sharp, subtle, smooth rendering that provides dimensionality and high contrast, and pleases the eye.
Our expertise is in the science of creating beautiful images for the motion picture industry. Our understanding of the right way to implement technology comes from our long term involvement in the film business.
Ed Lachman on Cooke's presence
"What is the Cooke Look? Cooke's have a shapeness, a presence to the image, a roundness, a feeling of giving depth and shape to the image. It's sharp edge-to-edge but the image has more presence – a depth and shape that's pleasing to the eye."
Ed Lachman, ASC on Erin Brockovich
So where does the Cooke Look come from?
In the very early days of the company Cooke recognised the need to design, manufacture and calibrate lenses that produce a film image that, when eventually projected, looks warm and natural. Our lenses are designed with an understanding of the pipeline between what the DoP sees and the experience in the movie theatre.
We've never wavered from that commitment.
Consistently maintaining the colour balance across the range means all our lenses are colour-matched to give a seamless look when shots are mixed in production. This painstaking process is partly why Cooke lenses take time and skill to construct.
Rob McLachlan on Cooke quality
"I love Cookes for their rather ineffable quality I call " roundness or fullness" They seem to render skintones more faithfully and flatteringly. They are very very sharp – yet not clinical.
I have had my S4i's for 4 years and I have never had any maintenance issues with them at all. When I first got them we had a truck knock the camera down with my 40mm on it. We had it checked out and it was perfect – it withstood the bang perfectly. More recently I was shooting "Dragonball Evolution" in Mexico under super dusty and rugged conditions and the lenses performed flawlessly.
I have used Cookes on the features Final Destination 1 and 3, Black Christmas, Willard, Kings Ransom, Dragonball Evolution and the TV movie A little Thing Called Murder, The New Beachcombers, and High Noon. and on the TV series, Tarzan, True Calling pilot, Out of Order, The Lone Gunmen pilot, Bionic Woman and coming this spring, Harper's Island."
Rob McLachlan ASC,CSC
In aiming for as natural an image as possible, we also consider "transition in the image" – when an image of a sharp edge goes out of focus. Cooke lenses ensure the blend is smooth and rounded, and that there is no artificial effect (including ringing and doublings) introduced by the lens and spoiling the transition.
Jan Kiesser on using S4 lenses
"Cooke S4s are the most complimentary portrait lenses out there. The subtlety and contrast range handles the human face really well.
There is contrast range without harshness — it's almost like using a complimentary diffusion filter. It's these subtleties that appeal to me.
I have used the Cooke S4 Primes on at least ten films and have owned the Cooke 18 -100mm for 20 years.
I've shot sunlight right down the lens and the resolution and lack of flaring is incredible. On Beowulf & Grendel (2005) I was shooting with the sun in the shot and it amazed me how that concentration of bright sunlight added dimension to the shot instead of distracting flares.
I shot Beowulf & Grendel in Iceland and the last days of shooting were at the end of November. It was cold, raining sideways and blowing sand. We had a few small problems with the camera but not the lenses – the S4s are very robust."
Jan Kiesser, ASC
So what about digital film camera sensors – does the Cooke Look have value in a digital acquisition workflow? Absolutely! Modern single chip digital cameras have detectors that fully benefit from the Cooke lens colour balance, and transition is of course as relevant as ever.
Gordon C Lonsdale on Cooke's strengths
"The Cooke S4 lenses are the ones I turn to when in a tough situation. If I am shooting directly into practical lights, into backlight or shooting with the sun in my face the S4 lenses can handle it. Flare is at a minimum and many times none existent, I love these lenses"
Gordon C Lonsdale, DOP, Bones
Matthew Jensen on Cooke's performance
"My favorite lenses. Can't say enough good things about their contrast, smoothness on faces, and the assistants love their performance."
Matthew Jensen, DOP, True Blood, HBO
The Cooke lens is the eye of the cinematographer.
Salvatore Totino on Cooke's uniqueness
"One of the great things about Cooke is that it's still a hand-crafted item in a modern age – like a Ferrari!"
Salvatore Totino