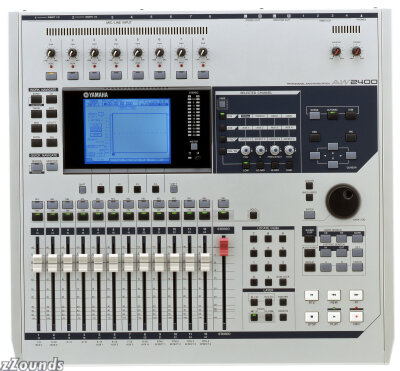 Yamahas groundbreaking AW16G and AW4416 digital audio workstations not only brought the "studio in a box" concept directly to musicians – they also provided immediate access to inspiration and creativity. That legacy continues with the introduction of the AW1600 and AW2400 workstations.
The AW1600 and AW2400 have everything needed to record your music anytime, anywhere in compact, road-worthy designs. The AW2400 is the new flagship of the AW line with 24 simultaneous tracks of playback, motorized 100mm faders, and the same expansion slot found on Yamahas digital mixing consoles for connecting the AW to professional studio gear.
The AW2400 proves that an audio workstation thats easy to use can also offer professional-class features and performance for music production. Once youve learned the basics you can efficiently go from concept to CD while concentrating on the music rather than the technical details.
Main Features:
16-input/24-track system records top-quality uncompressed 16-bit or 24-bit audio at 44.1 or 48 kHz (12 tracks when recording 24 bit audio).
8 virtual tracks per physical track (26 x 8 in 16-bit mode) provide plenty of capacity for alternate takes.
Substantial 40-gigabyte high-speed 3.5" hard disk provides plenty of internal storage as well as fast, reliable recording and playback performance.
Built-in CD-RW drive lets you burn original audio CDs that can be played on any standard CD player, as well as make reliable CD data backups. Copyright permitting, copy CD data to the internal hard drive.
High-performance 24-bit A/D and D/A converters guarantee outstanding audio quality.
4-band EQ with a choice of Type I and Type II EQ modes and versatile dynamics processing on all mixer inputs and recorder tracks.
Full-length 100-millimeter motor faders facilitate precise mixing and mix automation.
Eight XLR and TRS microphone/line inputs, with switchable phantom power for all XLR connectors and insert patch points on inputs 1 and 2.
A Mini-YGDAI expansion slot on the rear panel accepts a range of high-performance I/O expansion cards.
Sound Clip function makes it simple to record short audio samples or memos.
Four high-performance assignable effect processors provide a range of ambience, modulation, and mastering effects.
Pitch Fix function allows precise vocal pitch correction.
Scene memory allows up to 99 mix setups to be memorized for each song.
USB 2.0 interface provides fast data transfer between the AW2400 and a computer for effective data management.
Data compatibility with the Yamaha AW1600, AW4416, AW2816, and AW16G audio workstations.
Up To 16 Inputs, 24 Tracks
The AW2400 mixer supports up to 16 simultaneous inputs in two layers: eight of the 12 100-millimeter motor faders provided on the AW2400 panel can be instantly switched to control inputs 1~8 or 9~16. Eight balanced mic/line XLR type connectors as well as eight balanced or unbalanced TRS phone jacks are provided on the rear panel for direct input, and an additional eight analog or digital inputs can be provided via an optional Mini-YGDAI expansion card plugged into the AW2400 expansion slot. With all 16 inputs available you can even record 16 tracks simultaneously when recording in 16-bit mode, or you can record up to 8 tracks simultaneously in 24-bit mode.
For 16-bit recording and playback the AW2400 recorder section offers a total of 24 tracks, or 12 tracks for 24-bit recording and playback. You also have 8 virtual tracks per physical track – thats 26 (24 + stereo) x 8 in 16-bit mode or 14 (12 + stereo) x 8 in 24-bit mode) – that provide plenty of capacity for alternate takes or arrangements. Any of the mixers inputs can be easily patched to any of the recorders tracks for maximum recording flexibility. When the TRACK 1~12 or 13~16 mix layer is selected the faders adjust playback level from recorder tracks 1~12 or 13~16, respectively.
Acclaimed Yamaha Effects for Recording, Mixing and Mastering
Its no secret that Yamaha makes some of the finest signal processing gear available, and with the AW2400 you get a stunning range of top-class effects built right in! In addition to a large selection of reverb, delay, modulation, and pitch type effects, the AW2400 includes amp-simulator based guitar effects that let you get great guitar sound without having to actually mic a guitar amplifier, and processing presets specifically designed for mastering that can help to bring the sound of your overall mix up toprofessional level. Whats more you have four independent effect processors with corresponding sends and returns so youll have enough processing power on hand for just about any situation.
4-band EQ & Dynamics On Every Input & Track
Although some level of EQ capability on every track has come to be expected, there was a time – not so long ago – when not even large mixing consoles in multi-million-dollar recording studios offered compression and gating on every channel. With the AW2400 you have just that: in addition to extremely versatile 4-band equalization, you have independent compression and gating capability on every single input channel and recorder track for total dynamics control over your mixes.
Comprehensive Interface with Yamaha Selected Channel Concept
Built around a large 320 x 240 dot backlit LCD display panel, the AW2400 interface makes recording and mixing even complex projects a smooth, efficient operation. Quick navigation keys take you to the functions and displays you need immediately, and a comprehensive complement of control keys and encoders gives you hands-on intimacy where you need it most. The same Selected Channel concept that is at heart of Yamahas industry-leading digital live mixers and production consoles makes the AW2400 easy to learn and intuitive to use. Theres even a numeric keypad for fast numeric entry and location, and large transport keys for sure transport operation, and a data entry section that includes a jog/data dial for fast, efficient data entry.
From Song to CD In One Unit
Once youve recorded, mixed and mastered your musical creations you can burn them directly to CD right in the AW2400. The AW2400 features a built-in high-performance CD-RW drive that can be used to create audio CDs that will play on any standard CD player, or you can use it to make CD data backups of your song data so that it can be reloaded and remixed or edited at any time.
Pitch Fix for Pitch-perfect Vocal Tracks
If a song has vocals, youll undoubtedly want the vocal track to sound as good as you can possibly make it. Since singers are human the occasional off note is to be expected, but with the AW2400 Pitch Fix function they wont mean youll have to discard an otherwise excellent track. Pitch Fix can effectively "repair" notes that are a bit sharp or flat without adding any telltale digital artifacts.
Quick Sound Clips
Whenever you need to quickly record a musical "memo" or sample for later use, the AW2400 Sound Clip function is ready to roll. Sound clips are an ideal way to quickly capture ideas for a song or arrangement, or to create simple accompaniment parts for practice.
Serious I/O
Unlike many all-in-one audio workstations the AW2400 provides a full complement of eight balanced XLR connectors for microphone or line input, as well as eight TRS phone jacks for either balanced or unbalanced line input.
Switchable phantom power is provided for the XLR inputs so you can use studio-grade phantom-powered condenser microphones in order to capture superior sound right from the source. Insert patch points on inputs 1 and 2 allow insertion of external processing gear. Direct digital stereo input and output capability is provided via coaxial S/P DIF input and output connectors.
In addition to the main stereo and monitor outputs, the AW2400 also features four OMNI OUT connectors that can be assigned to output signals from just about anywhere in the system for additional signal feeds wherever they might be required. When you need more inputs and/or outputs – analog or digital – you have an excellent range of Yamaha Mini-YGDAI expansion cards from which to choose.
The Computer Connection
The AW2400 features a fast USB 2.0 interface that can be connected to a USB-equipped personal computer to allow standard WAV files to be transferred back and forth. You can back up audio data from the AW2400 directly to computer and import audio files into the AW2400 from the computer. In addition to providing advanced file management capabilities this means you could, for example, move files to the computer for processing in a computer-based audio application and then move them back to the AW2400 for final mastering.
MIDI Remote Control
The AW2400 allows full parameter control via MIDI commands, so you can record scene changes as well as control changes from the AW2400 to a MIDI sequencer, for example, and then reproduce the recorded operations precisely when the sequence is played back. If youll be using the AW2400 with MIDI gear such as a Yamaha MOTIF ES series synthesizer, the AW2400 includes a number of control "templates" that instantly set it up for convenient remote controls from the synths keys and encoders.
Band Recording
Since the AW2400 allows simultaneous recording of up to 16 tracks with an optional mini-YGDAI I/O card installed, it is an ideal choice for making one-take band recordings. And once the band is recorded, you can use its advanced mixing capabilities and effects to mix, master, and burn directly to CD!
AW + Computer Production
All you need to connect to a personal computer is a single USB cable. Once connected you can use the computer to manage and back up your audio files and projects, and even use computer-based audio editors for additional production control. You can even control the AW2400 remotely from the computer.