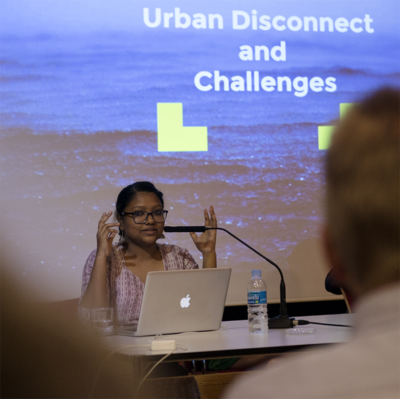 Lipika Singh Darai is a graduate in Audiography from the FTII. Apart from sound recording and design, she directs and edits documentaries and fiction films.
As a child what were your early influences towards cinema? Art, literature, graphics, photography?
I grew up in a few small towns in Odisha, mostly watching national TV channel DD-1 and hardly visiting cinema theatres. My father an easy going liberal man, a bank manager and mother, a very strict home maker, waiting for her two girls to grow up so that she could go back to her younger dreams, both being the first generation post graduates in their respective agrarian families. My maternal grand aunt and grand mother, two strong women in my life who lived in a remote village were my family extension and reason for beautiful earthy childhood memories. Around six years old, I started to learn Hindustani classical vocal, painting and occasionally Odissi dance. Training in music kept my mind mostly occupied as my mother was quite particular about my regular Reyaaz every morning around 5.30am, five days a week for years. I was about six years old when my music teacher Late, Prafulla Kumar Das was sixty. Little that I knew, music was shaping a new world inside me. I think, my first imagery from any of my imagination evolved through music, through sound while trying hard to understand what my music teacher was expressing.
From my childhood memory, I would bring out three scenes from three different films which had lasting impression on me. Woman turning into a tree in a deep forest, from the film "Cheluvi", Man tiger dances on the drum beats and the villagers following him, from the film "Bag Bahadur" and Ajay Devgan, the Bollywood actor's stunt standing on two running bikes, with loud music in the background from the film "Phool aur kaante".
I was too busy with people and the world around me that I never got much time to read books, never liked still cameras, those consumer cameras which every middle class families had,I found a camera interfering and only for documentation of family occasions. I was fascinated by my painting teacher who always used to ask me to sketch the time you are in.