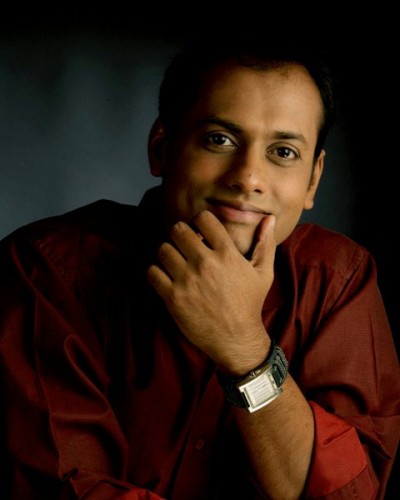 S. Manasvi, born on the 29th of September 1975, is a qualified architect from Madhav Institute of Technology and Science (MITS), Gwalior. He then did his course in Film and TV Direction from the Film and Television Institute of India, Pune. After graduating from FTII in 2004, he made corporate films, adfilms, music videos and wrote for Television. He has been credited the dialogue writer for Left Right Left (SAB TV), Choti Bahu (ZEE TV) and several other shows.
He made his debut as a film director with Rajshri Productions' Love U…Mr. Kalakaar! featuring Tusshar Kapoor, Amrita Rao, Ram Kapoor, Madhoo, Kiran Kumar, Jai Kalra, Prem Chopra and Prashant Ranyal.
This film was released on the 13th of May 2011 and got mixed response from critics and audience alike.
As a child what were your early influences towards cinema? Art, literature, graphics, photography?
Cinema used to be once or twice a month thing in our home. Very select films that my parents thought were 'suitable for us'. So a majority of them were films by Hrishikesh Mukherji and Basu Chatterji. My mother being a literary person herself, introduced me to Hindi Literature (as well as regional works translated in hindi) at a very young age.
How did you first become interested in film direction?
I did a theatre workshop when I was 10 years old and it was then that I realized that its more fun to direct than to act. By the time, I was 14, I started making my own films on paper in form of comic books, matchbox tv etc and even designed posters for those imaginary films.

What steps did you take to train yourself?
When my parents learnt about my dream of becoming a director, they told me in clear words that I will have to learn the art formally by going to the film institute and only then can I go to Mumbai to pursue my dream. But to join FTII, one has to be a graduate. So I joined a graduate course in Architecture (B.Arch) as Architecture was my second love. By the time I finished my graduation, FTII was not taking any fresh admissions. I thought of it as a sign from God and started working as an architect, first in Delhi, then in Bangalore. Even while working in Bangalore, I used to keep inquiring about weekend courses in Film making. Then in September 1999, I saw the admission notice for FTII and apply for it. I got through and I quit my job and joined FTII.
Have you assisted anyone? How does it help one?
A certain director (also an FTII alumnus), I approached after completing my FTII course told me that he doesn't want FTII graduates as his assistants because FTII passouts are directors themselves and its difficult to place them in hierarchy. So I started work as an independent director for corporate films, adfilms, music videos and also started writing for television. I wrote one telefilm for director Sidharth Anand Kumar and he asked me to be the associate on that film. Assisting that one film taught me about the whole procedure and that helped me when I was directing my first film.
How did your first film project come about? Tell us something about the experience.
FTII had organised screening of all the diploma films of our batch in September 2005 and Mr. Rajkumar Barjatya of Rajshri Productions was one of the guests. He liked my diploma film "Guzaraa Huaa Mausam" and expressed his desire to meet me. I was called and introduced to him. He told me that he wants me to direct a film for them. Then for the next three and a half years, I used to meet him with fresh ideas and concepts and scripts but he wasn't liking them. Also they were busy with their other projects and were in no hurry to start a new one. Ultimately in April 2009, Mr. Sooraj Barjatya locked my concept of "Love U Mr. Kalakaar" and we started work on the script. My assistant Apoorv Dhar Badgaiyan helped me with the script and I was ready with the first draft by end of June. Then started the process of narration. After several writes and re-writes, the final draft was frozen in December 2009. We began shoot in July 2010 due to artist availability issues. The shoot was a very pleasant experience as the Rajshri Productions is famous for making things very comfortable for the director and the team. We finished the shooting in sixty five days. The film was released on the 13th of May 2011.
How do you decide on a film subject. What are your inspirations?
I decide on a film subject based on my gut instinct. But yes, a story that brings a smile on your face will always remain my priority. My inspirations generally emerge from real life incidents. I also like to read a lot of short stories, hoping that it will provide me with that germ of an idea that would result in a full fledged script.
Is film direction intuitive or is it something you learn?
Film Direction is not just an art but also a highly evolved technique that one needs to learn. It can be intuitive to a certain extent but one needs to learn the craft. You may know what to do but learning will teach you how to do it.
What is your genre?
I don't subscribe to a single style of film making and I would like to dabble with all sorts of genres. But yes, rom-com is definitely my favourite genre.
What part does risk-taking play in your work, if any?
Risk taking is a way of life. I you are not willing to take risk, you cannot succeed. And this doesn't apply to only film-making but to all fields of life.
Do you think the audience is perceptive about how a director establishes a mis en scene in the sense of time and space?
Mis-en-scene helps in establishing a relationship with the audience. If that bond breaks during a scene, audience loses its interest. Or you can say that the magic fails. Audience sits in the hall, knowing that they are watching a film but soon the film takes over and they become part of the visuals they are watching. They should remain part of the film till the end. Interval just provides a short break. During this break, audience should feel compelled to enter the film once again.
What is more important story or technique? If story is most important, then why not a book or theatre?
Stories are very loyal to its medium. Not all stories can be a film and not all films can become a story-book. A good story needs the touch of technique to make a good film out of it.
Film is a director's medium, though it is often looked at as driven by Film stars.  How do you deal with it?
Luckily, the actors I have worked with till now have shown immense respect for the director. Film stars are created by the audience and are ably supported by the media. If the media starts taking interest in directors, audience will start recognizing them too. The actors can actually use their stardom in positive way to create good cinema or use it in a negative way and just make money. Right now, I am dealing with establishing my identity.
Film technology is continuously changing. Do you think it affects you as a director, in the way you want to tell stories.
It totally depends on the kind of story you want to tell. Canvas is determined by the story and not vice-versa.
Your favorite films or directors? At least two of them?
Favourite Directors:  Bimal Roy, Hrishikesh Mukherji, Basu Chatterji, Gulzar, Mahesh Bhatt, Rajkumar Hirani and Imtiaz Ali
Favourite Films: Bandini, Anand, Chhoti si Baat, Maachis, Saransh, Lage Raho Munnabhai and Jab We Met.
What role does commerce play in film making?
Film is not a personal art. You can just pick up a pencil, a piece of paper and create art that will sell. But film-making involves hundreds of  people and each one of them prays for the commercial success of the film. A film needs to recover its cost and provide money for the next film.
What helps a film more the story or marketing?
Definitely, Marketing.
Any hurdles you have encountered in your journey. Things that are blocks in a achieving your vision while making your film.
Your experience is always questioned. I guess, people don't take you seriously till you are more than a film old.
Do you often get all that is in your wish list or is it a hard bargain every time?
Its hard bargain.
How important is an EP to a director?
An EP who shares the same vision as the director is a boon not only to the director but to the whole film.
What is in the kitty now?
Developing some TV shows, starting a comedy film in August.
Any advice to the inspiring directors?
Believe in yourself.
Any memorable blunders?
None as yet.
Your dream project?
A film involving 8 superheroes – based on a concept from Hindu Mythology.
Manasvi's IMDB profile is here.