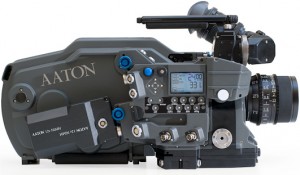 Night and day, Penelope is the one
In the Odyssey, Penelope worked night and day on her tapestry, awaiting Ulysses. In its own way, her namesake camera also combines day and night: light in the ultra-bright viewfinder, dark in the instant-loading magazine. Just as Penelope's wait was worth it, Ulysses came back, so you have not waited in vain, since this revolutionary 35 millimeter camera is available for purchase starting October 2008.
Penelope is an epitome of all the features camera operators and rental companies are looking for.

Camera technical specifications:
* Universal camera-body for 35mm 2-Perf.
* 2Perf-native camera, swappable to 3-Perf and back in approx. 30 minutes with the 3-Perf kit.
* 22dB noise level (0+1dB) in 2-Perf.
* 23dB noise level (0+1dB) in 3-Perf.
* Weight: 8 Kg with loaded 400′ mag and 1 battery.
* 1-50 fps, Synch & Variable speeds (0.001 increments)
* Instant film-magazines, nine minute autonomy at 24fps in 35mm 2-Perf.
* Built to withstand extreme climates (-10°C to +40°C).
* Extremely bright optical viewfinder with generous peripheral coverage
* Twin battery power supply: one for lightweight handheld shots; add the other for multi-accessory use.
* Ready to print PDF 'Image Report' with JPEG snapshots, metadata and AatonCode via USB key.

Magazine:
Low profile magazine, the slanted base perfectly fits the shoulder, no other camera brings this comfort to the operator. Penelope respects the 'cat on the shoulder' rule Aaton is famous for.
* Instant 400′ preloaded magazine.
* 2/3 Perf.
* Magnetic drive.
* Semi automatic film loading
* Easy loop length adjustment in daylight.
* Delivered with nose protector.
Video assist (Pal or NTSC)
Cooke I/Technology option for PL Mount.
* Double resolution progressive scan SD video-assist.
* Flicker free at all operating speeds
* Internal Fameline generator – Multiple frame option
* Auto White Balance
* Adjustable RGB values – Color bar generator – Frame store
* Timecode In window and VITC
* Mechanical Iris and video gain control
Top Handle
The Penelope top handle can be used to carry and/or handle the camera. Easy and quick installation on the camera viewfinder, multiple 3/8″ inserts for accessories. The top handle also includes the camera pitch control key, the shutter angle adjustment tool, the gate removing tool and the handle removing Allen key.