An iPhone/iPod Touch application that graphically predicts the path of the sun from dusk to dawn, on any given day, in any given place.
Designed as an aid to Cinematographers and Stills Photographers working in natural light, Helios is essential to anyone who needs to plan a day around the constantly changing character of sunlight. Gaffers, Grips, Location Managers, Production Designers and First Assistant Directors will already be aware of the value of this information. Other professionals, from Architects and Surveyors to Electricians and Landscape Gardeners can now predict sun exposure in the field, without the need for complex tables or graphs.
Helios operates in 3 modes
HelioMeter is a graphical representation of the sun's position on a compass dial (azimuth) for any time of day, showing the sun's elevation and proportional length of shadow an object would cast.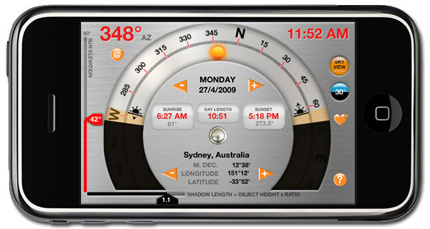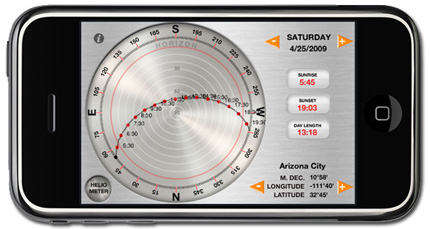 SkyView is an overall view of the sun's path in the sky through the day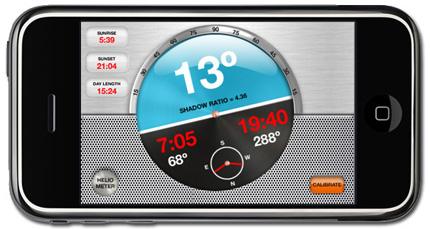 Inclinometer View predicts the sun's height at any given time in the day. Essentially an electronic inclinometer that reads in both time and angle.
More at the Helios website