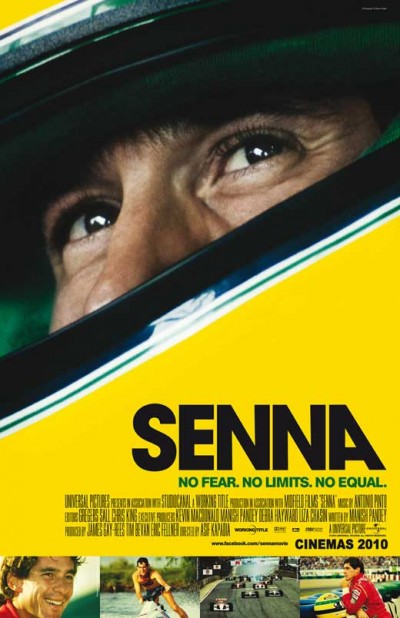 Review by Vinoo
Language : English
Director : Asif Kapadia
Senna. He was the best driver who ever lived.
I would agree with that. The story of Senna and his short but illustrious career on and off the track is very well pieced-together in this brilliant Documentary. Besides some rare footage, it also features Nigel Mansell, Jean-Marie Balestre, Nelson Piquet, Jackie Stewart, Sid Watkins among others. The film delves on the politics of the sport and how in-spite of all odds Senna made it. Ayrton Senna glorified Alain Prost, and many others after, with worthy competition. One thing Senna, unlike Prost, never quite figured was the 'politics' of Formula One. The film documents Senna's early life, his entry into Formula One with Toleman-Hart in 1984 with which he finished a close second to Prost at the Monaco Grand Prix, his superiority on rain-soaked tracks, his teaming up with Prost in 1988, winning the Grand prix in 1988, 1990 and 1991, Jean-Marie Balestre's control of F1, Senna's rivalry with Michael Schumacher, Senna's stints with Tleman, Lotus, McLaren, Willians and ultimately his crash and death at the 1994 San Marino Grand Prix and much more. It has many interesting anecdotes like the time when Senna completed an couple of laps in the 6th gear after his gear box gave way during the Brazilian Grand prix in 1991 which he claimed to be the one race winning which gave him the utmost pleasure. A lot more trivia like how he would wave the Brazilian national flag after each race but ironically in the race of 1994, which would be his last, he had an Austrian flag rolled up in his car which he intended to raise in honour of Roland Ratzenberger, who died in a bad accident, after the race.
Ruben Barrichello is said to have mentioned Senna was the first one he saw after he regained consciousness after a bad accident he was involved in. It is a brilliant tribute to the humble, fearless and at times spiritual Ayrton Senna. He was revered as a patriot and a saint in his own country even during his lifetime for all the humanitarian work he did for Brazil. You get to know Ayrton Senna a little more closely, almost at a personal level on watching this film. You know right from the start the impending accident that was to turn fatal but somehow the film manages to very nearly make you believe otherwise. While the film doesn't hint at any foul play in Senna's death at the Imola track, you almost think that could be the case if you care to read up on the circumstances surrounding his death, which has been attributed to steering-column failure. For details on the controversy surrounding Ayrton Senna's death check out this link http://www.ayrton-senna.com/s-files/picsf07.html
All credit to Asif Kapadia and Manish Pandey, the Director and Writer respectively. Asif Kapadia has made quite a few films, besides 'Senna', and his film also features in 'Cinema 16 : British Short Films'. 'Senna' was scripted by Manish Pandey. Hats off to both of them for a well-researched documentary. Here is a link to the trailer. Senna almost looks sad like he knows what is coming. Well… at least I felt that way. Here goes :
I have an old poster from a 1994 issue of 'Sportsar' which has Ayrton Senna holding a remote control to a car with the title 'Formula One. Child's play.' This was just days before his fatal accident at Imola. 'Senna' makes me want to look for that poster among my old collection.
Also watched some fabulous films like 'Twin Brothers' by Axel Danielson, 'Play' by Ruben Ostlund, 'You, the living' by Roy Andersson among others. Watched 'The Artist' – just about okay. Reminded me of Charlie Chaplin's 'Limelight' for some reason. Watched Roman Polanski's 'The Carnage', which has brilliant performances by the entire cast, the men in particular :-), but yeah like a good friend mentioned 'Polanski sure has seen better days'.
Useless Trivia : 'Fullerton. Terry Fullerton.' Ayrton Senna's reply to Mark Fogerty asking him 'Who is or has been the driver you got the most satisfaction of racing against… past or present?'
Fullerton was Senna's Karting team-mate and rival who he presumably never could really beat, and like Senna says then there was no politics unlike in Formula One. Here is some interesting read on Fullerton and the rivalry with Senna.
In 1994 the Brazilian World-winning Football Team dedicated their win to Senna as a tribute to his contribution to Formula One and Brazil.
Sorry for the two-month break. But, let me assure you the last two months were well spent in a Film Exchange Workshop with the Swedish Film Institute, Goteborg University. And then, followed up by a quick visit to Stockholm, Helsinki, Tallinn and Paris :-). So there.